October Weather Updates
October 24, 2019
  Good morning,
We are expected to get some rainfall Friday and Saturday. Make sure to take your raincoat or umbrella with you to work tomorrow. The heaviest rainfall is expected across southeast Mississippi and adjacent portions of southwest Alabama, where 2 to 4 inches of rain with locally higher totals are forecast.  Given the abnormally dry conditions, the flood threat currently looks to be limited, but we will be monitoring for repeated rounds of heavier rainfall which could lead to an isolated flash flood threat. Although a couple of strong storms cannot be ruled out (mainly closer to the coast), severe weather currently looks to be unlikely. 
October 15, 2019
Good Morning,
Bands of rain showers will continue to move east across the area today. Rainfall totals of 2 to 4 inches are expected along and north of a Janice, Mississippi to Andalusia, Alabama line through tonight. Radar estimates that 1-1.5" have already fallen across northern Wayne County to western Butler County. Embedded thunderstorms developing later today may bring local rainfall rates high enough to create localized flash flooding over the Limited Risk area.The rain is expected to shift south tonight, bringing rainfall totals of 1 - 2 " to areas south of the Limited Risk area.
Also, there is a Marginal Risk of strong to marginally severe storms possible today across the area along and south of a warm front expected to move north across the area. Damaging wind gusts will be the primary threat
September Weather Updates
September 24, 2019
Good Morning,
Above normal temperatures can be expected across our area today. Highs are forecasted to range in the lower to mid 90s. Make sure to drink plenty of water and stay hydrated. We also have a slight chance of rain for our area.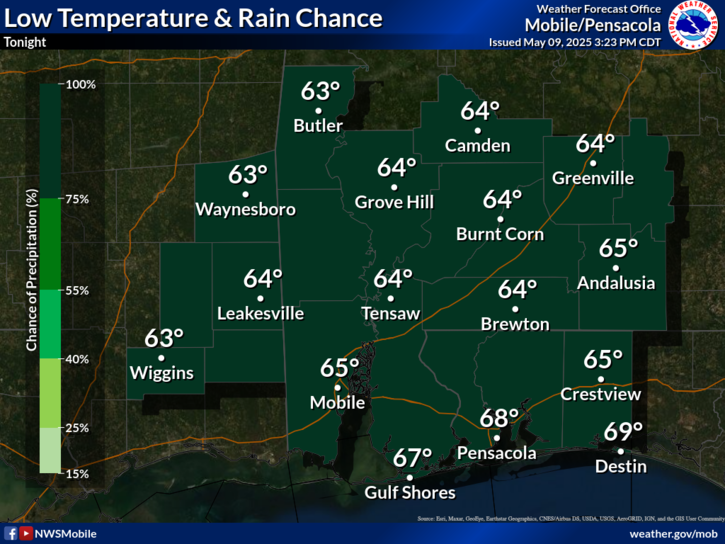 May Weather Updates
May 10, 2019
May 9, 2019
New Information: A slight risk for severe thunderstorm development continues over most locations in southeast Mississippi and a small section of Choctaw county in southwest Alabama. A marginal risk for severe thunderstorm development has now been extended eastward over remaining locations of the forecast area. Isolated severe thunderstorm development is possible, mainly this afternoon and evening. Damaging wind gusts will be the primary threat with any severe thunderstorms that develop. Here's the what, when and where:
Thursday: Severe Weather

What:  Damaging wind gusts.
Where: Slight Risk west of a line from Butler, Alabama to Leakesville, Mississippi.  Marginal Risk now extends eastward over remaining locations of the forecast area. 
When: This afternoon and evening.
April 25, 2019
Good morning!
The next storm system is still on track to bring numerous to widespread showers and thunderstorms to our area today and early tonight. The overall potential for severe weather is now a Slight Risk of severe thunderstorms across most of our forecast area. A small area with a Marginal Risk of severe storms continues over our far northeastern Alabama counties due mostly to lower afternoon instability.  Damaging winds will remain the primary severe threat, although a brief tornado is also possible. Please see the attached graphic for details. 
In addition to the severe weather threat, we expect locally heavy rainfall to spread across the area with this system. We now expect that much of our region will receive between 2 and 3 inches of rain, with some localized rainfall amounts in excess of 3 to 4 inches possible in a few places, especially down along the coast. This locally heavy rainfall will bring a limited threat of minor flooding to the area late today and tonight, while very localized flash flooding will also be possible. Some area rivers remain in minor flooding.  Rain should end from west to east across our area late tonight into early Friday morning.  
Thursday Late Morning/Afternoon through Thursday Night

What

: 

Isolated severe storms possible with damaging wind gusts and possibly a tornado.  Locally heavy rainfall will also bring a limited threat of flooding to the area. 
Where:  Slight Risk across most of the area.  A Marginal Risk over the far northeastern areas of inland Alabama. 
When:  Late this morning over parts of southeast Mississippi, southwest Alabama and the western Florida panhandle this afternoon and evening.    
We will continue to provide updates on this upcoming weather event.  

Have a great day!
April 24, 2019
April 23, 2019
Good morning!
Another approaching system will bring the next round of showers and thunderstorms to our area Thursday afternoon through late Thursday night.  There is a conditional threat of severe weather across our area during this time frame, with any severe potential being ultimately dependent on the track of a surface low pressure system.  It currently appears that the low pressure system could track near or across our area Thursday afternoon into late Thursday evening.  Storms that develop along and ahead of this feature will have the potential to approach severe limits.  A Slight Risk of severe thunderstorms has been added across a portion of southeast Mississippi, while a Marginal Risk extends into portions of southwest and south central Alabama and the western Florida panhandle Thursday afternoon into Thursday night. 
For now, here are our latest thoughts:
Thursday Afternoon through Thursday Night
What

: 

Isolated severe storms possible with damaging wind gusts and possibly a tornado. .
Where:  The best chance of a severe storm currently appears to be across portions of southeast MS, where a Slight Risk of severe storms has been indicated.  A Marginal Risk extends as far east as roughly a Thomasville, AL to Mary Esther, FL line.  It is possible the risk areas could be extended a little farther east with later outlooks, but keep in mind that the risk areas will be dependent on the eventual track of the system. 
When: Late Thursday afternoon through Thursday night
April 18, 2019
Good morning, everyone,
     The area remains under an Enhanced Risk of severe weather. Timing has slowed down from yesterday morning, with a squall line moving over inland Southeast Mississippi in the late afternoon, and exiting east of the Mobile area of responsibility close to 5 AM CDT at the latest. 
    Widespread rainfall amounts of 1 to 2.5 inches with local amounts up to 4 inches are possible with this system. While the system will be progressive in nature, locally heavy rainfall in a short period of time could contribute to urban or minor flooding across much of the area.  Some area rivers are expected to reach (or are already experiencing) minor flooding.  Please see the attached graphics for more information. Here are the latest details:
Thursday Afternoon through Thursday Night
What

:  

Damaging wind gusts and tornadoes possible.  A strong tornado cannot be ruled out.
Where:  Enhanced Risk over the area.
When:  Late Thursday afternoon through Thursday night.
A webinar has been scheduled for 1 PM CDT today (Thursday). In additional, emails will continue to be provided through the duration 
April 17, 2019
April 16, 2019
Emergency Preparedness
Five Essential Steps To Be Ready For An Emergency
1.  STAY INFORMED - Knowing about the hazards that may strike your community and the risks you may have to take could be lifesaving.  Learn about emergency and weather alert systems.
2.  LEARN ABOUT BASIC INJURY AND DISEASE PREVENTION - You can find information on the internet, from your health care provider and a variety of other places.
3.  LOOK FOR THE MOST CURRENT INFORMATION ON EMERGENCY PREPAREDNESS-  Public Health provides print materials, and conferences.
4.  CREATE A FAMILY PREPAREDNESS PLAN AND EMERGENCY SUPPLY KIT - Make sure everyone knows or carries emergency contact names and numbers to help find each other if separated.  Also, include items that family members with special needs may require.
5.  BECOME FAMILIAR WITH THE EMERGENCY PLANS OF YOUR COMMUNITY, SCHOOL AND WORKPLACE - Make copies of the plans and keep them in a safe place to review and refer to if emergencies occur.
Collect And Store These 10 Essential Items To Get Ready For Emergencies!
1.  WATER - One gallon per person; per day
2.  FOOD - Have a two week supply of non perishable food per person.  Try to pack foods that require no refrigeration, preparation or cooking.  Consider   diets and special needs for infants, toddlers and the elderly.
3.  CAN OPENER - Make sure it is a manual can opener in case there is no power.
4.  MEDICATIONS - Collect one month's of all prescription medicines.  Rotate stockpiled medicine to ensure shelf life.
5.  FIRST AID - Include basics, such as antiseptic, gloves, a variety of bandage sizes, thermometer and protective masks.
6.  FLASHLIGHT - It is best to get a lantern style light for hands free use. 
7.  RADIO - Have a battery-powered radio for listening to news and weather.  A crank-operated or solar-powered radio would be best.
8.  CLOTHES - Collect extra clothing, socks and shoes for each family member.
9.  PERSONAL CARE ITEMS - Collect basic personal hygiene items such as toothbrushes, toothpaste, soap, feminine products, baby wipes and hand sanitizer.
10.  IMPORTANT DOCUMENTS - Collect copies of driver's licenses, photo ID, SSN number.
Monroe County Hazard Mitigation Plan Approved By FEMA
The Monroe County EMA and the Alabama Tombigbee Regional Commission have completed the multi-jurisdictional Hazard Mitigation Plan.  The HMP will better prepare Beatrice, Excel, Frisco City and Monroeville, for natural disasters.  
The Hazard Mitigation Plan is a long-term strategy to reduce community vulnerability to natural disasters.  The Monroe County Commission, Probate Judge Greg Norris, and all surrounding jurisdictions have approved and adopted the HMP.  The Monroe County Emergency Management Agency is taking proactive steps to lessen the impact of future disasters and the costly expenses associated with them.  The plan has been approved by the Alabama Emergency Management Agency and the Federal Emergency Management Agency.
The plan identifies hazards and potential hazards in Beatrice, Excel, Frisco City and Monroeville, and creates a framework to help community officials make decision that may ultimately protect lives and property.  The plan also outlines a strategy for implementing mitigation projects in each of the jurisdictions.
Learn about enhancements to warning messages issued by
 the National Weather Service
The National Weather Service will soon be adding new information to their warning messages
in an effort to better communicate specific impacts to the public. In the beginning, the
message will be termed "Experimental", but we anticipate the impact-based warnings will stay with us after the experimental period. This video was developed by Jason Beaman, Warning Coordination
Meteorologist for the National Wea
ther Service's Mobile Forecast Office.
Learn how to reconnect with your family after a disaster

Communicating with your friends and family when a disaster occurs is important to make sure everyone is safe. This is why having both an evacuation and communication plan is important. 

Waiting to hear from your loved ones during a disaster can be a heart wrenching ordeal. 

Have peace of mind when a disaster strikes and create your evacuation and emergency communication plans.

Make a plan to reconnect with family after a disaster by text, e-mail, social media and cell. For more tips go to http://go.usa.gov5MgJ #NatlPrep



---
Run, Hide, Fight!
With incidents of shootings and random violence in the news more and more, we need to be prepared to protect ourselves and our families from harm.  Just as you need to have a plan for hurricanes, tornadoes, and fires, you need to think about how you will react to a violent situation in a public place.  What will you do if someone comes into your workplace, church, the theater, or the mall shooting people?  Your preparation and planning for how you will react may just save your life!  Watch this video for some good ideas on dealing with an active shooter situation.
---
Smartphone Apps now available for Alabama Saf-T-Net
Alabama Saf-T-Net, a free servic
e for Alabama residents provided by Baron Services, Inc. of Huntsville, has released apps for both Apple and Android products.  These apps will le
t you customize which warnings you receive on your device and provide you with the
follow-me
 capability that we've all been waiting for.  Mor
e information on the Alabama Saf-T-Net system and links to information on the apps can be found at: 
http://alabamasaftnet.com/
Another unique feature of this system allows us to send local alerts to you from the EMA office.  This feature will provide another avenue through which to disseminate disaster related information!
Sign up today for this free service!
---
If You See Something, Say Something
Most of us will never run into terrorists
or extremists in our daily routine but some have and will. Even if the unusual turns out to be criminal conduct, it probably is not terrorist related, but once again, it could be. Law enforcement needs citizens to report suspicious activity even if it ultimately turns out to be innocent or normal criminal activity. Without leads, there are no investigations and only investigations lead to convictions.
Alabama citizens should provide criminal or terrorist related tips to their local law enforcement agencies. These tips will be investigated locally and then reported 
by law enforcement to the Alabama Fusion Center. If you prefer, you may 
submit a tip
 directly to the Fusion Center.
---
Follow us on Twitter and Facebook
(For tweeting storm reports use hashtags #ALWX and/or #MOBWX)
---
Subscribe to our Stormlist email notification system
Simply send an email to secretary@monroeema.com with a subject of STORMLIST SUBSCRIBE